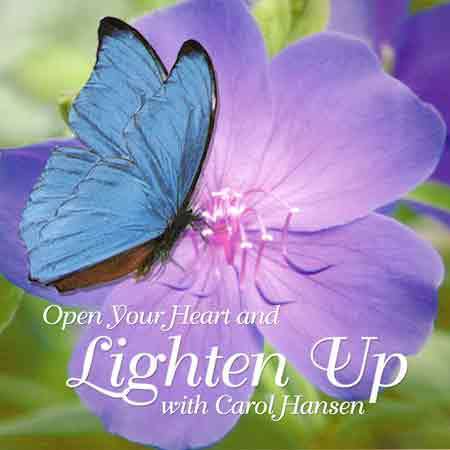 Lighten Up Workshop CD
Learn this simple 5 minute-a-day process that has taught thousands of people how to heal themselves on all levels by learning to love themselves unconditionally. Now with the convenience of this 27-track CD, you can easily listen to the entire Lighten Up Workshop and have the convenience of being able to re-listen to your favorite parts by simply selecting the track you wish to hear over again.
1) Victor's Intro, 2) Carol's Intro, 3) Background,
4) Carol's Job, 5) Work Your Joy, 6) New Year's Meditation,
7) Let Go of Past and Future, 8) A Small Willingness, 9) Lighten Up Process,
10) Carol's Experience, 11) Caffeine Story, 12) The Analogy,
13) Override the Mind, 14) Mind Chatter, 15) The Big Picture,
16) Relationship with Food, 17) Healing Stories, 18) Emotional Genetics,
19) Tools for Transformation, 20) Meditation and Kything,
21) Eliminating Negativity, 22) Victor and the Media, 23) Rainbow Clearing,
24) Children, Commercials and Self Esteem, 25) The Aging Process,
26) Row Your Own Boat and 27) Ordering Information.
FREE SHIPPING WITHIN THE UNITED STATES while limited quantities last!
Click here to read Lighten Up testimonials.