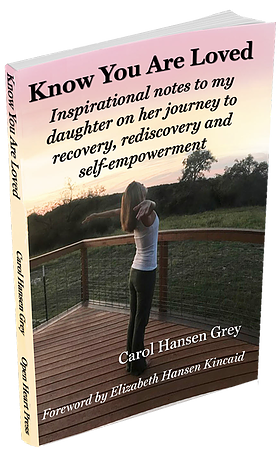 Know You Are Loved: Inspirational notes to my daughter on her journey to recovery, rediscovery and self-empowerment
Open Heart Press is pleased to offer Carol Hansen Grey's book: Know You Are Loved: Inspirational notes to my daughter on her journey to recovery,
This book is a touching, graphically-illustrated, biographical memoir of inspirational quotes, coupled with the Carol's personal motivational messages, that stress the importance of self-love and personal empowerment. Carol made each of these messages into cards that she mailed daily to her daughter who had been court-ordered to spend nine months in a residential alcoholic/drug-abuse rehab facility. For the first few months in rehab, her daughter was not allowed to have any outside contact, with one exception: she could receive letters. Sending a daily inspirational message of love was the Carol's way of supporting her daughter during her rehabilitation and recovery process by letting her know that she was loved. This book explains the Carol's process and includes 230 inspirational graphics she personally designed. 
Although these cards were specifically made for her daughter in rehab, each message has a universal appeal: that self-love is a necessary component of personal empowerment. It is hoped that this book will be an inspiration to everyone who needs to incorporate the self-love messages into their own life. It is also hoped it will inspire those who have a loved one in rehab or prison with ideas of how they can support their loved one through some simple reminders that they are loved and not forgotten. Simply being reminded of the love and support of family and friends can make a huge difference in their rehabilitation, recovery, and journey toward self-love and empowerment.
---
FREE SHIPPING WITHIN THE UNITED STATES from Open Heart Press while limited quantities last!
Click here to order from Open Heart Press
Or order directly from Amazon.com